Welcome to LogicAir Online Catalog!
Ramp security is a plus for all your Airport and GSE operations, don't let your employees at risk without the proper reflective gear.

At LogicAir we are leaders in Ramp Security Supplies !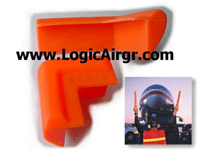 LogicAir is an exclusive MANUFACTURER & DISTRIBUTOR of the "AviaWand", a High Density Polyethylene wand in a safety orange color designed exclusively for the Airport Industry. Our "AviaWand" comes in 14" long presentation.

Contact us TODAY for quote on this item !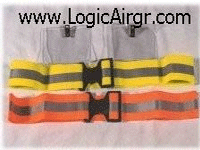 Reflective Elastic Belt 3M™ Scotchlite ™ Reflective Material and breathable stretch elastic with quick release buckle. The best belt for Ramp Security requiring 360 degree visibility. Adjusts from 22 to 44 inches and stretches up to 80 inches. Includes ID/Photo holder for easy identification.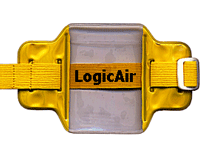 The Armband I.D. Easy Access Flock Backed Reflective Pass Holder was designed with flock backing for comfort when used against bare skin. It can be imprinted with your company name or logo, selected from various choice colors.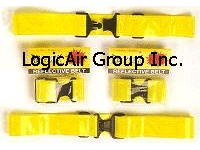 This 3M high gloss tape is four times more reflective at night and won't degrade in the sunlight. Don't risk your Ramp safety with older style gridded vinyl fabric, use High visibility florescent for total day visibility protection. Quick release belt buckle.
Here are the top 10 "I got to have it" products:
Cones
Barricades
Flags and Signs
Reflective Corner Bumpers
Reflective Belts
Safety Vest
BackBelts
I.D. Holders
Day Wand
FlashLights