New Triangle shaped WAND in stock for immediate shipping. Hey! Do not roll!

LogicAir will participate in many trade shows around the world year around. Visit our Quick link for our fast access for all your Aviation and GSE Needs.

Now we are offering a complete equipment and tool TEST, CALIBRATION and CERTIFICATION, by an accredited ISO/IEC 17025-1999 & ANSI/NCSL Z540-1-1994 partner by the American Association for Laboratory Accreditation. Please contact your customer service representative TODAY for a complete list of services.

New products are coming every week. Please contact your customer service representative TODAY for additional information.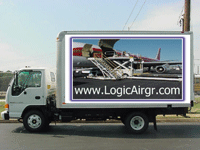 Having shipping problems with your current suppliers? We know about it...we know that your order is important and we work hard to help your business up and running... We deliver Local, National and International.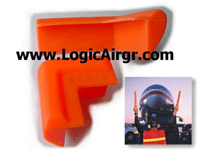 Protect your investment and your equipment with top of the line Corner Protectors and Day Wands from LogicAir...
Our AviaWand TM. by LogicAir is a High density polyethylene wand in HI-LIGHT safety orange color, highly resistant to weather conditions and ultraviolet rays...
Ground Support Worldwide 2006-2007
"LogicAir Group is a leader in General
Aviation and GSE Supplies. With a strong presence in
Mexico, the Caribbean, and Latin-America..."

August 2006, Vol14 Issue 6- Pag.42
Here are some of the top-selling products by LogicAir:

WE COVER ALL YOUR NEEDS IN JUST ONE CLICK......

BAGGAGE CART CURTAINS
LAVATORY FILL COUPLINGS
BREAK-AWAY COUPLINGS
FITTINGS
CABLES
CONTROLS
POTABLE WATER HOSE
TIRES & WHEELS
WHEEL CHOCKS
CORNER BUMPERS
TOW BARS
TOILET DEODORANT

PIPE & TANK CLEANER
LIQUID SOAP (FOR AIRCRAFT RESTROOM)
DRINKING WATER TREATMENT AND SYSTEMS STERILIZER

DIRECTOR LIGHT WITH WAND
HEADSETS FOR GSE
EYE & HEARING PROTECTION
GLOVES & BACK-BELTS
ID HOLDERS
FLAGS & SIGNS
PARTS & ACCESSORIES FOR GSE
BACK PACK VACUUMS

AND MANY MORE PARTS AND ACCESSORIES...